Move Over, Slow Down! R Line Towing believes it can make a difference between life and death!
According to the International Towing and Recovery Hall of Fame and Museum in Tennessee an estimated 60 tow truck drivers die every year in the line of duty…
That number is extremely high and does not include the close calls and survivors. So what can be done to prevent these recurring tragedies? What could anyone possibly do that has no idea about the towing industry? Its a fairly simple solution actually. Move Over, and Slow Down. Most states have even implemented laws enforcing this solution. If there is an emergency responder ( yes, tow operators are emergency responders too) on the side of the road with their lights flashing, slow down, and safely move over to the furthest available lane. Indeed, following these simple steps could prevent an injury or fatality. Unfortunately, due to the lack of enforcement of the Move Over law, few drivers seem to know it even exists.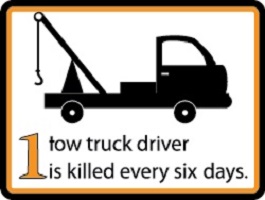 The National Highway Traffic Safety Administration has determined that occupational injury and fatality rates among first responders, which includes tow truck operators, are more than twice the national average for all industries. Pennsylvania has tried to mitigate the risks to first responders by enacting the Steer Clear law; however, many people have become immune to the flashing amber lights. It's not the police, fire department, or ambulance, so it must not be that important, right? Wrong! Tow truck operators are emergency responders, and often times arrive on the scene of an accident or breakdown before the police. Most drivers are not aware of the Steer Clear law, and due to the lack of enforcement the law has not made much of a difference.
There are several states that have already acknowledged the importance of tow truck operators and the dangers they face. Recognizing them as a first responder, they have authorized rear facing, red and/or blue rotating lights. Many towing associations across the country are pushing for them to be authorized in every state. Several independent tests have been done and prove rear facing, blue rotating lights are the most effective at getting driver's attention which compels them to slow down and move to and alternate lane when possible. In addition with the Move Over, Slow Down law this could help to eliminate the risks that tow operators face everyday.
Nobody can make this change alone. We need everyone to acknowledge the importance of Move Over, Slow Down and obey the law. It's the only way the number of fatalities and injuries to first responders will decrease!